Achievements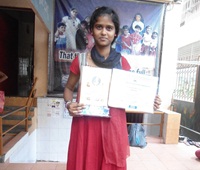 Divya
Divya was called by "Chethana Institute for empowering girls with technology" for being SSLC topper in the year 2016 from Corporation High School, Chamrajpet. They were given an award of a Tablet, certificate and a Chethana kit with some articles of use. They were very happy and grateful to God for the honour. 2017-18 Public Examinations in the 2nd PUC examinations Divya stood first in her college obtaining 84.3%. Now she has joined St. Aloysius College for the degree.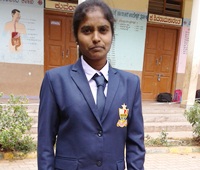 Valli
She will be a graduate within an year.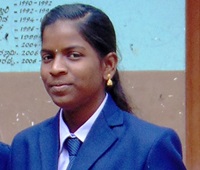 Deepa
Deepa has joined St. Theresa's College, Chamarajpet and first semester she cleared with first class. Now on the way to graduation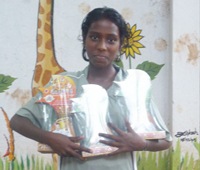 Sujatha
Sujatha VII standard won Taluk level athletics and she has selected to district level.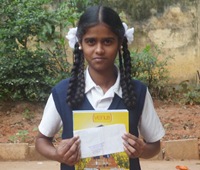 Divya
I am Divya completed my 10th STD and I got 84.32% percentage and stood first in the class. I am happy to express my thanks to everyone who were responsible for my success. I got an award of Rs. 1000/- from the Educational department. I hope to get the same encouragement and support in the future.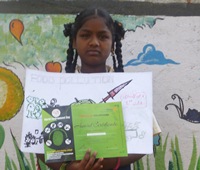 Shalini
We are happy our that Shalini Std VIII Won the Rs. 2000 cash prize in poster making completion held on 5th June Environment Day.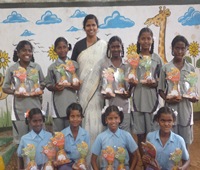 Nine Girls Won 1st Prize
9 of our children went to the cluster level Sports Compitions and got 1 prize and they were selected for the district level Sports Compitions.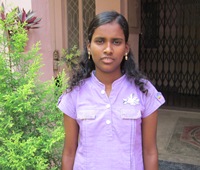 Sapoora
Sapoora passed her 2nd PUC with high first class. We congratulate her for her achievement.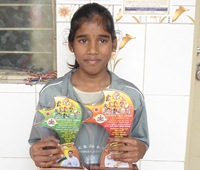 Kavya S
Kavya S is a budding sports persons. They excelled in sport at School and are selected at District level.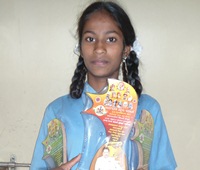 Sowmya E
Sowmya E is a budding sports persons. They excelled in sport at School and are selected at District level.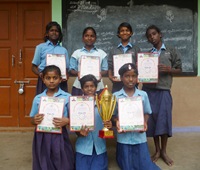 Sports Camp
12 of our children attended sports camp which was conducted by Bangalore School Sports Foundation in Sarjapur for 15 days. Our children participated in the various sports activities in the School level and Taluk level and they carried away We are happy that our 2 children Sujatha and Asha are selected further coaching in athletics Trophies and certificates.
Nagalakshmi
1X-Auxilium Navajeevana
Kammanahalli
First in Kabbadi at Taluck Level

Rani
X Std- Auxilium Navajeevana-Chamrajpet.
Bagged First Class in the SSLC exam march 2012
And received a cash award of Rs.5000/- a watch and valuable book
From Shri.B.V. Ganesh the area Counselor.

Priya-V11 STD and Dayana- V11 Std
Auxilium Navajeevana-Chamrajpet
Bagged first prizes in Kabbadi and Kho Kho.